Pedestrian Hit and Killed in Accident Near Atlantic Boulevard in Jacksonville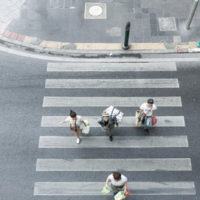 When a pedestrian is hit by a vehicle the ramifications can be devastating. A prime example can be found in a recent tragic accident that occurred in Jacksonville. A man was hit and killed by a vehicle near Atlantic Boulevard and Bowlan Street, according to CBS 47 News. The pedestrian was transported to a local hospital where he lost his life due to the severity of his injuries. Police were told that the man was crossing the road at the time he was struck by a motorist traveling westbound on Atlantic Boulevard.
Unfortunately, deadly pedestrian accidents arc quite common in and around Jacksonville. According to the Miami Herald, pedestrian deaths arc at a JO-year high resulting in Florida being ranked No. I as the deadliest slate for pedestrians.
Pursuing Financial Restitution for Your Harms and Losses
If you or a family member was seriously injured as a result of being hit by a car while, you have legal remedies available to obtain financial restitution for your harms and losses.
First and foremost, you should file a claim to obtain PIP benefits. PIP is an acronym standing for "Personal Injury Protection." This is a mandatory benefit all Florida auto insurance policies must contain. PIP benefits provide reimbursement for medical expenses and lost wages up to $10,000.
Even if you do not own a vehicle, the PIP insurance of the driver who hit you will cover your damages, up to $10,000. expenses.
What If My Damages are In Excess of $10,000′!
Great question. You're not alone either. Many injured pedestrians suffer significant, potentially catastrophic bodily injuries that may require weeks or months of rehabilitative care resulting in hundreds of thousands of dollars in medical bills and lost wages. You can file a claim directly with the other driver's auto insurance company and, any if necessary, pursue a civil lawsuit to seek financial compensation for the following harms and losses:
Medical Bills – You can obtain reimbursement for medical bills you incurred as a result of the accident and any future medical expenses stemming from your treatment. These bills often include the cost of ambulance transport, ER treatment, physical therapy, surgery, prescription medication,

Loss Income -If you were forced to miss a significant amount of time from work, you can seek reimbursement for that loss

Pain, Suffering, and Mental Anguish -These damages are often called "pain and suffering" damages. They arc the intangible harms and losses pedestrians endure after an accident including the emotional and psychological pain stemming from the
Jacksonville Pedestrian Accident Attorney Ready to Help
If you or a family member was struck by a car, truck, or SUV while crossing the street in Jacksonville, it is extremely important to have talented and skilled legal counsel to help obtain maximum compensation. Gillette Law P.A. is ready to help. Our legal team works on a contingency fee basis, which means we do
not get paid unless and until a financial recovery is obtained for you. Contact our office today to schedule a free, confidential case review.
Resources:
actidnnewsjax.com/nc;\vs/localljacksonvillc-p{)1icc-rcsponding-l()-fatal-crash-cm-atlantic­ boulevard/65 l 733526
miamihcral<l.com/ncvvs/local/ar1ic1c125588259.htmI