Charles J. Gillette, Jr. – Attorney at Law
More than two decades of service to the people of Florida and Georgia
The mission of Gillette Law, P.A. is to provide the highest quality legal services, delivered promptly and with an understanding of the particular needs of each client. For more than two decades, Attorney Charlie J. Gillette, Jr. has helped thousands of clients in Georgia and Florida get compensation for losses sustained as a result of a personal injury or wrongful death.
The firm's record of client advocacy is based on a commitment to equal justice for all. Attorney Gillette and his staff understand the physical, emotional, and financial difficulties that our clients and their families experience after an accident, especially one involving severe injury, disability or death. We strive to make our clients feel as comfortable as possible while ensuring that they are positioned for the best possible outcome in their legal matters. From meticulous attention to detail to courageous confrontation against even the most powerful wrongdoers on your behalf, Gillette Law, P.A. is a Jacksonville injury law firm that has your legal needs covered.
Gillette Law, P.A. serves clients in both Florida and Georgia in the following areas of personal injury:
Wrongful death
Auto accidents
Truck accidents
Motorcycle accidents
Catastrophic injuries
Medical malpractice
Slip and fall accidents/premises liability
Nursing home negligence
Defective products
Dog bites
Experienced Jacksonville Attorney with a Commitment to JusticeTaking a personal approach to accident and injury recovery, Charlie Gillette has been in practice since 1989 and has successfully handled hundreds of Jacksonville personal injury law cases. He says of his practice, "At my firm, clients speak with me. I'm guiding their case. They know who their attorney is." It is this personal, hands-on approach that provides clients with the comfort of knowing that the injury attorney they hire is personally handling the details of their case.
Charlie Gillette is a lifetime resident of Jacksonville, Florida and a graduate of local schools and the University of Florida. Since obtaining his law degree in 1988, and being admitted to the bar in Georgia and Florida, he has been an advocate for thousands of clients who have been injured or disabled by the negligence or misconduct of others. He is currently a personal injury attorney in good standing with the Florida and Georgia Bar Associations. Helping victims of accidents and injuries has been an enduring passion in Attorney Gillette's legal practice. While he has also practiced in the areas of family law and probate, he now focuses exclusive on personal injury law.
Charlie Gillette founded Gillette Law, P.A. in 1995, stating as its mission a commitment to provide the highest quality legal services in a manner that is timely and sensitive to the individual needs of each client. It is this commitment that has helped the practice to thrive and grow — extending its services to serve clients across Florida and Georgia.
---
Charles J. Gillette, Jr.
Bar admissions
Georgia, 1995
United States District Court of Appeals for the 11th Circuit, 1992
United States District Court, Middle District of Florida, 1990
Florida, 1989
Education
J.D., University of Florida College of Law, 1988
B.S., University of Florida College of Business, 1985
William M. Raines High School, 1981
Professional experience
Gillette Law, P.A., founder, 1995–present
Brannon & Gillette, P.A., shareholder, 1992–1995
Fourth Judicial Circuit, Assistant Public Defender, 1989–1991
Memberships
National Bar Association
Florida Chapter of the National Bar Association
D.W. Perkins Bar Association
Florida Justice Association
Jacksonville Bar Association
Alpha Phi Alpha Fraternity, Inc.
Legal assistance tailored to you
Charlie Gillette welcomes you to spend some time browsing the web site to learn more about the personal injury law firm of Gillette Law, P.A. and the types of cases it handles. Having represented thousands of clients over the years, Attorney Gillette realizes that all cases and clients are unique and that each case demands new strategies and tactics. The legal staff is accessible and responsive to all types of communication – email, telephone, or in-person – and can even travel to clients who are unable to visit either office location.
---
We at Gillette Law believe in giving back to the community
Speaking at Career Day
On May 25, 2016, Attorney Gillette spoke with third graders at George Washington Carver Elementary School on Career Day.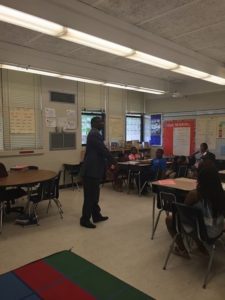 Helping Families in Need
On Sunday, December 14, 2014, Gillette Law made it a December to Remember for five Jacksonville families. As sponsor for the December to Remember event promoted by V-101.5 and the Clara White Mission, Gillette Law donated $500.00 to each family. In the last four years, Gillette Law has donated $10,000.00 total to 20 families! Gillette Law gives back to the community!
Merry Christmas and a Happy New Year to everyone. God bless.
Congratulations to the class of 2027!
On June 3, 2014, Attorney Gillette attended the Graduation Celebration for the Pre-K students at Martin Luther King, Jr. F.AM.E. Academy. This school is located in the neighborhood where Attorney Gillette grew up. Gillette Law donated the Caps and Gowns for these 34 youngsters. Because of the support of this community for the past 25 years, Gillette Law is blessed to be able to give back to that community. Looking forward to great things from these young people!
On February 14, 2014, Attorney Gillette spoke at Mount Baptist Church for Black History Month
Gillette Law believes in giving back to the community. On December 15, 2013, Attorney Gillette presented St. Paul Missionary Baptist Church of Jacksonville, Inc. $1000 for their Save Our Sons Project and $500 for the church's Christmas program. Atty. Gillette attends St. Paul, serves on its Board of Directors and formerly served as church counsel.
On December 14, 2013, Gillette Law helped make it a December to Remember for the five Jacksonville families pictured above. As sponsor for the December to Remember event promoted by V-101.5 and the Clara White Mission, Gillette Law donated $500.00 to each of the families. Gillette Law gives back to community!
On December 10, 2011, The Gillette Law Firm donated $2,500 to five families in need during V101.5's and Clara White Mission's "December to Remember" event.
Mentoring our Future Leaders
Choose a Jacksonville personal injury attorney with more than two decades of experience
Gillette Law, P.A. is centrally located to serve clients in Florida and Georgia. The helpful professional staff is available Monday through Friday from 8:00 a.m. to 5:00 p.m. and at other times by appointment. Contact us online, or call us at 904-600-4758 or toll-free at 888-366-5904. If you are unable to visit one of our offices, we can meet with you in your home or hospital room. We offer a free initial consultation and work on a contingency fee basis, so you pay on a percentage basis only when we win your case.