Wrongful Death Filed Against Police Department After Man Dies in Custody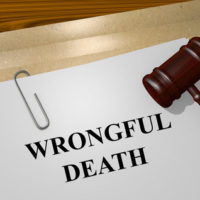 The family of a man who died in police custody has filed a lawsuit against the Lansing Police Department. Anthony Hulon died only hours after four police officers apprehended him and handcuffed him behind his back. The County's medical examiner ruled that the man died of asphyxiation and labeled the death a homicide.
Hulon was arrested for a domestic disturbance. After exhibiting what police called "erratic behavior" he was taken to the hospital eight hours later for an evaluation. He also complained that he was hot and sweaty. Officers believed the man to be on methamphetamine.
After being taken to the hospital, Hulon was treated for methamphetamine and ecstasy toxicity. Hospital staff said he was agitated and involuntarily twitching. Hulon was given Ativan to calm him down and then returned to his jail cell. Later, Hulon can be seen on video clearly agitated and attempting to struggle against officers even though his arms and feet were shackled.
While attempting to place him in a waist restraint belt, officers pinned Hulon to the ground impeding his ability to breathe. Hulon told officers he couldn't breathe, and he told them when he was about to pass out. The officer had the full weight of his body on Hulon's back. Three and half minutes after Hulon's last voluntary movement, the officer got off his back. He had been face-down for five and a half minutes.
One officer asked if he was sleeping. They sat him up against the wall and checked his pulse. He had no pulse and he had stopped breathing. That's when the officers called the medics.
Understanding Why This is a Wrongful Death
After Hulon had stopped breathing, officers waited over a minute and a half to begin CPR even after the AED machine told them it was necessary eight times. Secondly, this isn't the first time a prisoner has died of positional asphyxia recently in a Lansing jail cell. Lawyers for the plaintiffs say that the Lansing corrections officers turned a blind eye to patient rights and learned nothing from prior incidents.
Two others are also named in the lawsuit. One officer is named for watching the entire incident without intervening and their chief is named for negligent hiring, negligent supervision, and negligent hiring. In 1996, another prisoner died in the same cell while he was face-down and being shackled.
While it may seem like many of these individuals initiated the chain of events that led to their own death, there were several choices that police officers made that, had they not, the prisoner would still be alive. Because of that, the department is liable for the man's death under the law.
Talk to a Jacksonville Wrongful Death Attorney 
If you've lost a loved one to the negligence of another, call the Jacksonville personal injury attorneys at Gillette Law today to schedule a free consultation and learn more about how we can help.
Resource:
lansingstatejournal.com/story/news/2020/10/26/wrongful-death-lawsuit-filed-against-lansing-police-department-hulon/6043305002/
https://www.gillettelaw.com/trial-alleging-wrongful-death-of-inmate-set-to-begin/