Rear-End Car Accident Results in Loss of Life in Jacksonville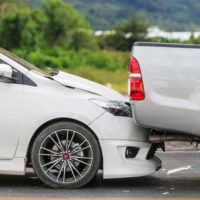 When people hear "rear end auto accident" they may assume that the motorists involved will be fine and the damage will be relegated to a fender-bender. Unfortunately, this is not always the case. In some instances, a rear-end car accident can have tragic consequences.
Take, for example, the collision that occurred on 1-95 and University Boulevard in Jacksonville. A Toyota Camry was rear-ended by another vehicle causing it to sideswipe another vehicle. The sideswipe collision then caused the Camry and the other vehicle that initiated the accident to hit a
concrete wall. This chain reaction wreck resulted in the death of the Camry driver, according to News 4 Jax.
Deepest condolences go out to the friends and family of the Camry driver. Losing a loved one is always a traumatic, heart-breaking experienced, but the pain is made that much worse when the Joss is completely unexpected and appears to have been completely avoidable.
Sadly, deadly car accidents arc a common occurrence in Florida. The Sun-Sentinel reported that over 3,000 people died in automobile collisions in 2016, the highest number of traffic fatalities since 2007.
What To Do If You Lose a Loved One in a Car Wreck
If you have the misfortune of learning that a spouse, child, sibling, parent, etc. has lost their life in an automobile accident in or around Jacksonville, there are legal options available to you to hold the reckless driver responsible. You have the ability to file a civil wrongful death lawsuit. You have the ability to pursue the following types of damages through this civil action:
Lost earnings of your loved one beginning from the date of the fatal accident until a reasonably expected age of passage, if the accident had not occurred. The total amount of lost earnings can be calculated with the assistance of an economist or other consultant retained by your Jacksonville wrongful death

Medical expenses incurred by your loved one after the accident (e.g., emergency room care).

Funeral and burial

Pain, suffering, mental anguish, emotional turmoil, etc. These non-economic damages arc tougher to calculate but are often a large percentage of the damages pursued in a wrongful death claim. You can pursue damages for the sudden and unexpected loss of the protection, guidance, mentorship and companionship provided by your deceased loved
When You Need to Take Action
Under Florida's statute of limitations, the beneficiaries of a decedent who lost their life in an automobile collision must file a wrongful death action in a Florida courtroom within two years starting from the date of your loved one's death. If you delay in filing suit and let this two-year window close, you will likely be prohibited from taking legal action against the reckless driver who took your loved one's life.
Jacksonville Car Accident Lawyer Here to Help
If you lost a loved one in a car accident in or around Jacksonville, contact Gillette Law, P.A. today. Our experienced and skilled legal team is here to help. Contact our office today to schedule a free, confidential case review.
Resources:
news4jax.com/news/1-dead-in-3-car-crash-on-i-95-near-university-blvd
sun-sentinel.com/local/broward/fl-arrive-alive-initiative-20170124-story.html