Florida Man Gets $157M from Tobacco Companies After Death of Husband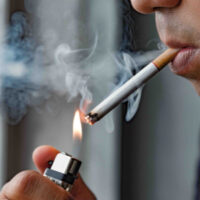 A Florida jury has just awarded a man $157 million after his husband died of lung cancer caused by years of smoking cigarettes. It is believed to be one of the first wrongful death cases filed against a tobacco company and involving a same-sex couple. This is significant because prior to the Supreme Court decision that permitted two same-sex partners to marry in the United States, same-sex partners could be barred by statute from recovering damages since they weren't considered the legal spouses of their loved ones.
Analyzing the Case 
Tobacco-related lawsuits are difficult to win because those who smoke are aware of the dangers related to the product. That means that they can only file suit against the tobacco companies if they can show that they were either manipulated or weren't aware of the dangers. As such, claims involving those who began smoking when they were under the legal age of 18 are still being tried against major tobacco companies.
In this case, Edward Caprio was diagnosed with COPD in 1996. He had started smoking when he was only 15. He died at the age of 74 of smoking-related lung damage. The jury ordered both Phillip Morris and R.J. Reynolds to pay Bryan Rintoul, Edward Caprio's spouse, a combined $157 million. Only $9 million of that award was compensatory damages. The remainder was punitive damages awarded to punish the companies for targeting their product to teenagers.
The jury agreed that both tobacco companies had manipulated the addictive qualities of cigarettes and marketed their product to adolescents and as a result of these tactics, the plaintiff's husband lost his life.
Statutory Barriers to Wrongful Death Cases
Wrongful death lawsuits like these involving same-sex couples can only be brought by a married spouse if the illness was present before the spouses married. This statutory barrier impacts even couples that are already married. Prior to the Supreme Court decision, same-sex couples had no legal recourse to file wrongful death lawsuits or claim pain and suffering damages. While some states permit lawsuits brought on behalf of domestic partners who are not married, Florida is not one of them.
More interestingly, Caprio and Rintoul were married after the Rintoul became aware of Caprio's COPD in 1996. However, the plaintiffs were successfully able to argue that they would have been married much sooner had it been legal at the time. The jury agreed.
The verdict is being heralded is a major victory for same-sex couples, but it also shines a light on some of the struggles same-sex couples were forced to endure prior to being allowed to legally marry in the United States.
Talk to a Jacksonville Wrongful Death Attorney Today
If you've lost a loved one to another's malice or negligence, the Jacksonville personal injury attorneys at Gillette Law can help you recover damages and hold the at-fault party responsible for their role in the incident. Talk to us today to set up a free consultation.
Resource:
nbcnews.com/feature/nbc-out/florida-jury-awards-gay-man-157-million-tobacco-companies-death-n1086281
https://www.gillettelaw.com/juul-faces-first-wrongful-death-lawsuit/