JUUL Faces First Wrongful Death Lawsuit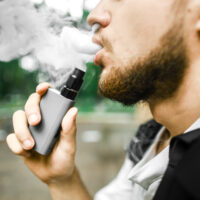 A Florida woman is the first to file a lawsuit against JUUL, the manufacturer of popular vape products. According to the woman, her son died as a result of the e-cigarettes at the age of 18. As the first lawsuit of its kind, personal injury attorneys and those affected by e-cigarettes will be watching carefully to see what happens. While the story is haunting, the question of liability will determine whether or not JUUL has to pay the woman for her loss.
Eighteen-year-old Daniel Wakefield was over at his father's house. His father, who had gotten up to get a glass of water, found him dead on the couch. While Wakefield suffered from asthma, it wasn't something that his parents said had hampered him for years. The family believes that it was his JUUL cigarette that caused his death.
Was JUUL the Proximate Cause of the Boy's Death?
A product like JUUL which contains a controlled substance, nicotine, can only be distributed to those over the age of 18. Yet the boy's parents say that he'd been vaping JUUL brand e-cigs since he was 15. In this case, they have no other idea how the boy could have died at the age of 18, but that isn't enough to win a lawsuit.
Even if the boy had asthma, his mother could file a successful lawsuit against JUUL if she can show that the e-cigarettes exacerbated his condition. JUUL would be required to warn potential customers about the dangers of smoking e-cigarettes with asthma. So this is a potentially winnable case. But it's also going to be a difficult one.
Firstly, the parents are going to have to explain why they allowed their 15-year-old son to have access to an addictive substance while he had asthma. Meanwhile, other personal injury attorneys allege that JUUL has been marketing their cigarettes to children vis a vis flavored vapor products. This has spurred legislation in multiple states that have banned flavored vapor juice. Now, those who want to vape can only get access to cigarette or menthol flavored vapor juice products.
The medical examiner who ruled on the cause of Wakefield's death listed "natural causes" and made a note of the fact that the boy had asthma. The family maintains that the asthma hadn't troubled him since he was a child and was exacerbated by the vapor product.
What About the Other Deaths?
Twenty-five deaths have been recorded recently and were linked to vapor products. The ones that got all the headlines, however, were linked to black market THC cartridges from China. These cartridges used a non-alcohol-based solvent that caused severe damage to the lungs, killing some and injuring others. In these cases, there's no one to sue.
Talk to a Jacksonville Wrongful Death Attorney Today
If you've been injured by a dangerous or defective product, the Jacksonville product liability attorneys at Gillette Law can file a lawsuit on your behalf. Talk to us today for a free consultation.
Resource:
buzzfeednews.com/article/danvergano/vaping-death-lung-injury-outbreak
https://www.gillettelaw.com/jury-awards-495m-to-jacksonville-woman-in-wrongful-death-suit/