Motorcyclist Killed in Collision with Semi Truck on Normandy Boulevard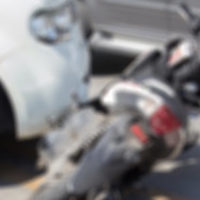 When a tractor-trailer collides with another vehicle, the occupant of the other vehicle usually bears the brunt of the damage. This is especially true when the other vehicle is someone riding a motorcycle. The lack of protection available to most motorcyclists mean they are at greater risk of suffering serious injuries if they are involved in an accident.
A tragic example is a motorcyclist who was involved in a collision with big rig pulling a dump trailer that turned onto Normandy Boulevard in front of the motorcyclist. The motorcyclist was only 23 years old. Reports indicate that the motorcyclist attempted to avoid the big rig, but was unable to. The motorcyclist was transported to Orange Park Medical Center for immediate medical treatment. Unfortunately, he did not survive, according to News 4 Jax.
Florida Highway Patrol stated that charges are pending.
Deepest condolences go out to the friends and family of the motorcyclist. Losing someone you love is never easy, but the pain of a sudden, unexpected loss is particularly awful.
Motorcycle Accidents a Serious Issue in Florida
Florida is one of the deadliest states in the country for motorcyclists. In fact, one in every five people who lost their lives in highway accidents in Florida were operating a motorcycle. This is despite the fact that motorcyclists represent only seven percent of the total number of licensed motorists in the Sunshine State.
In 2015, more than six hundred motorcyclists were killed in auto accidents in Florida. That represents a thirty percent since 2014, according to AAA. The number of motorcycles registered in Florida only increased by about three percent from 2014 to 2015.
Nationally, the numbers are not much better. According to the Governors Highway Safety Association, nearly 4,500 motorcyclists were killed in accidents in 2014.
Take Legal Action After a Serious Accident
If you or a loved one was riding a motorcycle and got hit by another motorist, you may be able to pursue financial restitution for your harms and losses. The best course of action is to sit down with a Jacksonville personal injury lawyer to discuss your legal options. Here is a brief overview of the damages you may be able to receive through a personal injury lawsuit:
Medical expenses incurred as a result of the accident (e.g., ER visits, surgeries, etc.). In addition, you can pursue future medical expenses (e.g., physical therapy, prescription medications, etc.).

Lost income for the time you missed from work due to your injuries.

Pain, suffering, mental anguish, anxiety, embarrassment, worry, grief, etc.

In certain circumstances, you may also be able to pursue punitive damages, which is a form of damages available in particularly heinous and shocking accidents.
Speak to a Jacksonville Motorcycle Accident Injury Lawyer Today
If you or a family member were seriously injured in an accident while operating a motorcycle, take action and contact Gillette Law P.A. in Jacksonville. Our legal team is ready and able to help. Contact our office today to schedule a free, confidential case review.
Resource:
news4jax.com/news/fhp-investigating-deadly-westside-crash