Motorcyclist Dies in Hit-and-Run Accident in Jacksonville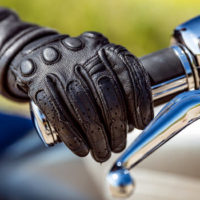 Losing someone you love is always a gut-wrenching, traumatic event. But losing someone in an unexpected, sudden accident caused by a negligent motorist exacerbates the feelings of both pain and anger. An example is found in the deadly accident that occurred on Phillips Highway south of Bowden Road in Jacksonville.
A 35-year-old motorcyclist was sideswiped by a car causing him to end up in a ditch. Did the driver stop to check on the motorcyclist? Did they call the police or an ambulance? No. They fled the scene of the crash and left the motorcyclist to fend for himself.
The motorcyclist was found in the ditch shortly after the collision, but died as a result of the severity of his injuries.
The sister of the victim told CBS47 News that the hit-and-run driver "ripped our hearts out and we want answers," according to the CBS47 News article. Fortunately, state troopers discovered surveillance video footage that appears to show the vehicle that collided with their loved one's motorcycle. This may, hopefully, lead to the apprehension of the hit-and-run motorist.
Disturbing Statistics Concerning Hit-and-Run Accidents
Unfortunately, hit-and-run accidents are a fairly common occurrence in and around Jacksonville. In fact, a reported 25 percent of all motor vehicle accidents involve a hit and run collision, according to the Florida Department of Highway Safety and Motor Vehicles. There were close to 68,000 reported hit and run accidents in the state in 2012 with a reported 17,000 of those accidents causing injuries and nearly 200 resulting in a loss of life.
What To Do If You or a Loved One is Injured in a Hit-and-Run Accident
Getting injured in a hit-and-run accident is particularly distressing because you are left damaged without the ability to file a personal injury claim against the negligent motorist and their insurance company. This puts many injured victims in a precarious position financially.
Florida is a no-fault insurance state. This means if you are involved in a hit-and-run accident, you still have the ability to obtain some level of financial restitution through the Personal Injury Protection benefits in your own insurance policy. However, PIP benefits are usually limited to $10,000. If your damages exceed that amount, you could consider filing a claim under the uninsured motorist coverage of your policy (if you have this optional form of coverage).
Hopefully, police will be able to apprehend the at-fault motorist. If they do, it would be possible to pursue a civil action against them and seek not only compensatory damages for medical bills, lost wages, and pain and suffering, but punitive damages as well. Punitive damages are available when there is evidence that the defendant's actions were particularly egregious and shocking to point where the court wants to send a message to the negligent motorist.
Have Questions About Your Legal Rights? Speak to a Jacksonville Car Accident Lawyer Today
If you or a family member was injured in a hit-and-run accident, contact Gillette Law P.A. today. Our legal team is here to help. Contact our office today to schedule a free, confidential case review.
Resources:
actionnewsjax.com/news/local/jacksonville-family-offers-reward-after-motorcyclist-killed-in-hit-and-run/666396654
flhsmv.gov/safety-center/driving-safety/hitrun/