Important Tips to Safely Share the Road with Trucks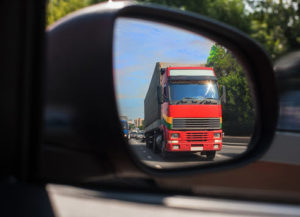 One person died and over 40 more were injured when a tour bus struck a tractor trailer in Gilmer County recently. The tractor trailer was stopped and waiting for oncoming traffic to pass so it could make a left turn when the tour bus rear-ended it. The tour bus driver was killed, but all the other passengers are expected to recover. The accident could have had a more unfortunate end result, especially if it had involved a collision between a tractor trailer and a smaller vehicle, like a car. That is why it is important for car drivers to stay safe when traveling on the road with trucks.
The Federal Motor Carrier Safety Administration (FMCSA) lists some helpful reminders for drivers so that they may safely share the road with larger vehicles, such as trucks and buses. For the full list, visit FMCSA's website.
Avoid blind spots. Trucks have larger blind spots than cars, so you should be vigilant and stay out of them. The FMCSA reminds you that a truck driver likely can't see you if you're unable to see the truck's side mirror, so make sure to stay in sight of the truck.

Use safe precautions when passing trucks. If you want to pass a truck, first make sure you aren't in a blind spot; otherwise, the truck may not be aware that you're coming. Be sure to signal and accelerate to maintain a safe distance. Once you're able to see the entire truck in your rearview mirror, you should have enough distance to move in front. The FMCSA reminds drivers not to pass trucks on a downgrade since they often pick up speed when heading downhill, and to avoid passing from the right lane. If a truck is passing you, slow down enough to let it over. When you're in a merging lane, be mindful of trucks or large vehicles that may need to merge in front of you.

Do not cut in too soon. According to FMCSA, larger vehicles can take 40% longer to slow down than regular cars. It is imperative that you don't cut over in front of a truck or bus too soon, because the driver may not be able to see you. You have a greater chance of causing an accident this way.

Allow enough room for wide turns. When making a turn, trucks require a wide berth. As long as you stop at the solid white line on the road, the truck should have enough room. Conversely, if you pull up ahead of the line, the truck may not be able to get by safely. Do not ever try to squeeze past a truck that is attempting to turn. Doing so may put you in a truck's blind spot, and if the driver is not aware that you are there, he or she could accidentally run into you.
Involved in a Car Accident? Give us a call.
No matter how safe you are on the road, accidents can happen. When you're in an accident that was caused by a negligent truck driver, it's important that you take care of yourself so you can fully heal. That's why you should contact a reliable, dedicated attorney to help you get the compensation necessary for your recovery. Gillette Law, P.A. has offices in both Georgia and Florida. Our lawyers have significant experience helping car accident victims; call today for a free consultation to see how we can help you, too.
Resources:
11alive.com/news/local/dozens-injured-in-tractor-trailer-tour-bus-accident/335738769
fmcsa.dot.gov/ourroads/tips-driving-safely-around-large-trucks-or-buses