Proving Negligence in a Medical Malpractice Case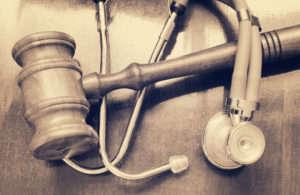 A Boynton Beach hospital found itself in hot water when it sent a patient home after his colon surgery sporting a 4 ¼ -inch piece of tubing in his abdomen. A nurse on duty was supposed to take out the tube, but it was never removed. The patient, Simon Dockswell, sued for medical malpractice, and was blindsided when the court returned a verdict in favor of the defendant. Mr. Dockswell was shocked again when the Fourth District Court of Appeals upheld the verdict. His last attempt at a new ruling will be this October when the Florida Supreme Court will hear arguments for the case. This case is not unlike an issue anyone could face when it comes to medical malpractice: Did the nurse, who did not to remove the entire drainage tube from the patient's abdomen, fail to meet the minimum standard of care?
When Does Medical Malpractice Occur?
Medical malpractice occurs when a healthcare staff member deviates from professional standards of care, causing injury or even death to a patient. Doctors who make mistakes during surgery, pharmacists who incorrectly fill a prescription, and nurses (such as in the case above) who fail to remove foreign objects from patients' bodies can all be considered negligent. If you suffered a medical-related injury, you could be facing a long recovery, loss of work, or a mountain of medical bills.
When they are accused of being negligent, healthcare professionals must prove that they are competent and able to provide a proper level of care; if unable to do so, they could face charges of medical malpractice. In a medical malpractice suit, the medical professional, as the defendant, needs to prove an absence of medical negligence. Conversely, when you are the victim of medical malpractice, it is important that you fight to get justice for your suffering.
How to Prove Medical Malpractice
To make your case, be sure that it meets the following prerequisites:
It is within the statute of limitations? Georgia requires you to file within two years of the medical incident, and Florida requires you to file within a year of when you discovered or should have discovered the injury. If the case involves a minor or a mentally incompetent adult, Georgia law mandates that you file within a year of the incident.
Was the medical decision made with sound judgement? Healthcare professionals need to use best efforts in all decisions they make; otherwise they can be accused of negligence.
Let Us Assist You
You and your family should not be forced to suffer because of a mistake someone else made. If you are a victim of an injury caused by a medical professional you trusted, you may be entitled to receive compensation. A medical malpractice case can be somewhat difficult to navigate, as is evidenced by Mr. Dockswell's issues. It is best for you to contact a skilled medical malpractice attorney to help you with your matter. The Florida and Georgia malpractice attorneys at Gillette Law, P.A. can offer you years of legal experience coupled with compassion for your situation. Let us fight for your rights so that you and your family can focus on recovery. Contact Gillette Law, P.A. today for a free consultation.
Resource:
dailybusinessreview.com/id=1202768586324/Does-Nurse-Leaving-Tube-in-Patient-Equal-Negligence?slreturn=20160829170046