Understanding Florida's Nursing Home Abuse and Neglect Laws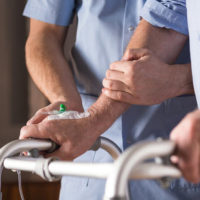 The decision to admit an elderly loved one to a nursing home or long-term care facility can be fraught with stress and anxiety. You want the very best for your loved one, including quality medical treatment and a peaceful living environment.
Unfortunately, far too many people discover that the nursing home their loved one is staying in has a multitude of problems, including potentially-abusive staff or neglectful staff resulting in serious harm to your loved one.
Types of Nursing Home Abuse and Neglect
It is important to understand that abuse and neglect can take many forms. It is not simply a staff person physically striking your loved one. For example, force-feeding your loved one, engaging in improper sexual contact, over-medicating your loved one, or improperly using chemical or physical restraints are also forms of abuse. There is also mental abuse which includes verbal threats and insults, manipulation, and isolation.
Grounds for Pursuing a Nursing Home Abuse Lawsuit
The basis for a nursing home abuse lawsuit depends largely on the facts of your particular case. However, there are common types of negligent actions that may form the basis of an abuse or neglect case. Here is a sample:
Negligently hiring an unqualified or abusive staff person or medical professional;
Administering incorrect medication or improper dosages of a prescribed medication;
Chronic understaffing to the point where residents are neglected and ignored;
Inadequate training of staff on how to treat elderly residents; and/or
Breach of state and/or federal regulations;
Recoverable Damages Through a Nursing Home Abuse Claim
Monetary damages that can be recovered in a nursing home abuse case can include medical expenses, pain and suffering and long-term trauma from the abuse. Depending on the facts of the case, there may even be a basis to pursue punitive damages, which are often referred to as "punishment damages." They are made available in cases where the conduct of a nursing home or long-term facility is particularly egregious. For example, a jury awarded $23 million in punitive damages to the family of an elderly woman who had to be taken to the hospital after developing bed sores. She died as a result of the sores becoming infected. Evidence at trial suggested that the facility staff knew of the bed sores and told other staff members to keep them secret.
How a Jacksonville Nursing Home Abuse Lawyer Can Help
If you suspect your elderly loved one is being abused or neglected, contact an experienced Jacksonville nursing home abuse lawyer right away. A lawyer can report the abuse to the proper state authorities and take the steps necessary to protect your loved one's rights. Your lawyer will also advise you to document as much of the abuse or neglect as possible, including medical records, witness statements, and other relevant evidence.
Compassionate Jacksonville Nursing Home Abuse Attorney Ready to Help
Discovering that your loved one is being abused or neglected can be overwhelming and shocking. That is why you should contact a lawyer to help protect your loved one and hold the negligent facility accountable. Gillette Law, P.A. is here to help in Florida. Contact us online, or call us at 904-358-1304 or toll-free at 888-366-5904. We offer free, confidential consultations.
Resources:
flrules.org/gateway/ChapterHome.asp?Chapter=59A-4
seattletimes.com/business/23m-verdict-stings-seattle-based-assisted-living-giant-emeritus/