Negligent Nurses Charged in Death of a World War II Veteran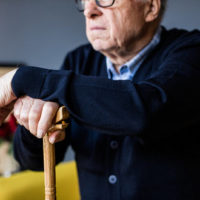 A video has gone viral of a World War II veteran desperately calling out for help, only to be ignored. The veteran was staying at Northeast Atlanta Health and Rehabilitation. The man's family was worried about him being in a nursing home, so the family placed a hidden camera in the room – one that was unknown to nurses and nursing home staff, but known to the veteran, according to the Washington Post.
In this heart wrenching video, you can hear the veteran call out for help numerous times. A nurse entered the room eight minutes after the veteran pressed his call button. The veteran showed visible signs of having a difficult time breathing. The nurse only adjusted the bed, checked some tubes around his neck, turned off the call light, and then left the man alone again. After another hour, staff returned to the room to find the man unconscious, but a 911 call was not made for almost another entire hour. In a deposition by the nurse supervisor, she stated that when she arrived at the room, a nurse was administering CPR. The video told a different story – no one was administering CPR.
There were three nurses in the room, none of whom were administering CPR, who were struggling to adjust the man's oxygen machine. One nurse can be seen visibly laughing. Finally, one nurse attempted CPR by pumping on the man's chest six times, but then gave up. The veteran passed away. Three nurses are facing different charges: felony murder and neglect to an elder person, depriving an elderly person of essential services, and neglect to an elderly person.
Rights After Nursing Home Neglect 
Nursing home neglect is a serious and devastating issue. When medical professionals and caregivers are not taking care of their patients, there are legal remedies available. Loved ones encourage and/or place their older relatives in nursing homes to ensure their safety and give them the best care possible under the circumstances.
After being neglected in a nursing home, there are options available to you. First, it is important to recognize different signs of neglect. There can be obvious neglect of critical medical care, like in the WWII veteran's death, but often the signs are more subtle. Bruises, lack of hygiene, emotional changes because of abuse, and depriving one of basic needs are just a few examples of neglect. You can file a lawsuit against the nursing home and the staff that neglected the victim and receive compensation. Damages can be economic and non-economic, depending on the facts and circumstances of your case.
If you or a loved one have been neglected in a nursing home, find an attorney that can go the distance for you. The experienced nursing home abuse legal team at Gillette Law has the legal skills and knowledge to get you the compensation you deserve. There is no excuse for neglecting the needs of another, and Charles Gillette wants advocate on behalf of you to get a favorable outcome. Contact us today to find out how we can help you.
Resources:
washingtonpost.com/news/to-your-health/wp/2018/02/22/nursing-home-workers-charged-after-a-wwii-vet-was-left-alone-to-die/?utm_term=.a8bc8c9356cc
ncea.acl.gov/whatwedo/research/statistics.html#risk