Nursing Home Abuse Whistleblower Awarded $5.2 Million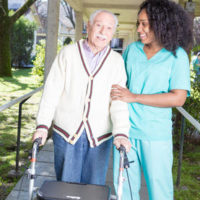 Recently, a licensed practical nurse (LPN) claimed she was fired for reporting abuse at a nursing home. To be sure, the nurse alleges that she was encouraged to increase doses of anti-anxiety medications to residents who were agitated. Additionally, the nurse asserts that she was instructed to delete or omit records that indicated suspicious injuries on the residents, according to the Herald Review.
The nurse alleges she was subsequently fired after refusing to partake in the above mentioned actions. She made a call to the corporate hotline to report the accusations. The nursing home denies the allegations of any wrongdoing that the nurse alleged. Regardless, the jury awarded past wages and benefits to the nurse, along with $5 million in punitive damages. A jury only took two hours to return the verdict.
It can be hard to place a loved one in a long-term care facility or nursing home. Stories like the one above make it even harder to trust facilities with the care of your loved one. Unfortunately, abuse happens, but there are indicators that you can look out for that may be signs of common types of abuse and neglect.
Signs of Abuse and Neglect 
Abuse and neglect can manifest in both physical and mental forms. Each type of abuse or neglect is important to recognize and be on the lookout for. Be sure to pay attention to any signs that may indicate abuse or neglect. Abuse and neglect are both important, but have different definitions. Abuse is any intentional act that results in physical injury, pain, or even anguish of another. Neglect is the failure to provide another the necessary care to promote a safe and healthy environment.
There are many indicators of physical abuse or neglect. These include:
Bed sores
Suspicious falls, fractures, or head injuries
Bodily infections
Rapid fluctuations in weight, both weight gain and weight loss
Bed injuries
Dehydration
Malnutrition
Unexplained bruises
Unexplained or suspicious cuts or wounds
Injuries in various stages of healing that are not normal
Unsanitary living conditions
Loss of mobility
There are also many indicators of mental abuse or neglect. These include:
Unexpected and unusual mood changes
Fear of being touched by others
Sudden aggressive behaviors like biting, sucking
Change in speech around staff members
Withdrawn and non-responsive or non-communicative
Any form of abuse in a nursing home or long-term care facility is not acceptable. There are remedies available to seek justice for your loved one. The resident of the nursing home or long-term care facility is able to bring a civil suit against the institution. In the event that the resident has died because of the abuse or neglect of the nursing home or long-term care facility, the family of the deceased is able to bring a lawsuit.
We Can Help You Today
If you or a loved one have been abused or neglected by a nursing home, Gillette Law is ready to help you. Our legal team in Jacksonville combines passion with exceptional knowledge to get the best outcome possible in your case. Contact us today to find out how we can help you.
Resource:
herald-review.com/news/state-and-regional/jury-awards-million-to-former-nurse-at-dwight-nursing-home/article_d5a4fbe6-e584-5813-a044-9cf265aef58d.html