Family of Murdered Prisoner Still Waiting for Autopsy Report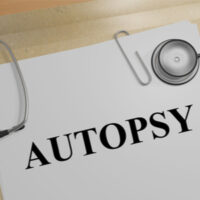 After two years of attempting to get a medical examiner's report from the Florida prison system, Carol Thomas finally received some indication of how her son died. According to the ME, Timothy Thomas died of injuries related to a physical attack. These included broken ribs and contusions to his face and head. His death was ruled a homicide, yet no charges have been file, and there are no current suspects.
Thomas opened an investigation with the Florida Department of Law Enforcement and the Florida Department of Corrections. Once the medical report was released to Thomas's attorney, she said that the findings contradicted what she'd been told by FDLE and FDC agents. The autopsy also appeared to downplay fluid build-up in Timothy Thomas's lungs. A lawyer for Carol Thomas believes that the fluid buildup was the actual cause of death.
Now, she has filed a wrongful death lawsuit against the FDC alleging that her son was beaten to death by corrections officers.
The Cause of Death
Carol Thomas believes that her son was beaten and pepper-sprayed by corrections officers. She believes this is the reason why the FDC dragged their feet for two years (the statute of limitations on filing a personal injury lawsuit in Florida). She also believes that the ultimate cause of death was not the beating but the use of pepper-spray, which made it difficult for him to breathe while he was suffering the beating.
The Beating
The family's lawsuit alleges that the incident began when Timothy Thomas started fasting for a Muslim holiday. Corrections officers demanded that Thomas eat in the cafeteria with the other inmates. Thomas was waiting for food when officers called him out of line, allegedly for wearing Muslim religious garb. One officer took him to the ground, using pepper spray, and then he was placed into a disciplinary confinement cell.
The lawsuit alleges that Thomas sat in the cell for hours struggling to breathe. One officer laughed outside his cell as he choked and wheezed. Eventually, he suffocated to death.
Less than two days later, Thomas was found in his cell having suffocated to death. The lawsuit states that the officers showed a "deliberate indifference" to the life and rights of Timothy Thomas.
The autopsy will be a key piece of evidence for the plaintiffs. In this case, it may not be necessary to "prove" that the victim died as a result of the actions of corrections officers. In a case like this, proving that the autopsy was falsified or based on specious information and reasoning can be enough to prove that the state is complicit in a murder.
Talk to a Jacksonville Wrongful Death Attorney Today
If you've lost a loved one due to the negligence or malice of another individual, call the Jacksonville personal injury attorneys at Gillette Law today to learn more about how we can help you recover damages related to your medical expenses, lost wages, and reduced quality of life.
Resource:
orlandosentinel.com/news/crime/os-ne-timothy-thomas-wrongful-death-florida-prison-20200703-u2b7izwakzfsljt436qhqwn3y4-story.html
https://www.gillettelaw.com/kentucky-settles-lawsuit-over-inmate-who-died-of-starvation/