Wrongful Death Lawsuit: Ambulance Driver Dumps Patient At Wrong House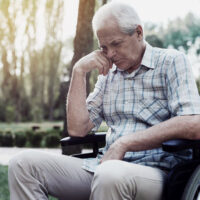 A bizarre lawsuit has been filed against an ambulance company after a man was dropped off outside the wrong house. The descendant had just received dialysis treatment and was left in a wheelchair outside a house numbered 223. His address was 233. No one attempted to alert anyone that their loved one was home. The man remained in a wheelchair outside of the wrong house unable to communicate or alert anyone. Eventually, a neighbor called the police when she noticed a man in a wheelchair who wasn't moving and had his head down.
According to the lawsuit, the descendant spent hours outside the wrong home in the August heat. The driver never alerted his family that he had been dropped off. An autopsy determined that the man died of sepsis. He was 67 years old.
Analyzing the lawsuit
It seems unconscionable that a driver would dump a patient in front of a house without alerting their family that the loved one has been delivered. So, ultimately, that is where the liability will be focused. The fact that the man was dropped off at the wrong house is troubling, but folks transpose numbers all the time. Mistakes happen. When the patient was not immediately taken into the home by relatives, why did the driver not call contacts or attempt to ensure the man was taken care of? That, ultimately, will be the basis for the wrongful death lawsuit.
Is this a medical malpractice lawsuit? 
In Florida, just because negligence is committed by a health care worker, it doesn't mean that the suit is automatically a medical malpractice lawsuit. In fact, Florida requires there to be a medical decision in order to qualify as medical malpractice. In this case, there was no medical decision.
The issue of what type of lawsuit it is has a remarkable impact on a lawsuit in Florida. Medical malpractice lawsuits are subject to laws that require expert witnesses among other requirements that place more pressure on plaintiffs and their attorneys than other types of injury actions. In some cases, you will find doctors arguing as to why the lawsuit filed against them should be considered medical malpractice as opposed to a general negligence suit. Meanwhile, plaintiffs are hoping to let the doctor off the hook on allegations of medical malpractice so that they don't have to jump through all the extra hoops that a medical malpractice lawsuit requires.
In this case, the decision to dump the patient off at a home that wasn't his where no one was there to take him, was not a medical decision. Nonetheless, the decision not to alert the family resulted in the death of the descendant.
Talk to a Jacksonville Wrongful Death Lawyer Today 
Gillette Law files wrongful death lawsuits on behalf of the estates of victims of culpable negligence and their families. Call our Jacksonville personal injury attorneys today to schedule a free consultation and discuss your options in more detail.
Source:
fox26houston.com/news/family-falls-wrongful-death-lawsuit-after-ambulance-driver-dropped-patient-off-at-wrong-house