Wrongful Death Lawsuit Alleges Officer Tackled Man To Death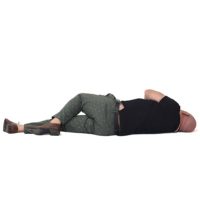 A trial has been scheduled for October alleging that a man was tackled in Walmart by a police officer and later died due to the assault. In football terms, the tackle would have been known as a "decleater". In other words, the officer tackled the man so hard that he lost his shoes. Why this officer isn't playing for the Jaguars where such conduct is considered exemplary is outside the scope of this article. The victim, who was a suspected shoplifter, crashed into the floor where he struck his head. Blood immediately began pouring out of his skull. The family has since filed a wrongful death lawsuit claiming that the officer used excessive force. But in this case, the consequences will be much worse than a 15-yard penalty.
What does the officer say? 
About what you'd expect. Officers in these cases have multiple avenues to get a claim against them dismissed. It's nearly impossible to hold a public servant responsible for an act of negligence, so plaintiffs are required to prove that the officer was acting outside the scope of their duty and/or violating some department policy.
In this case, the officer claims that the man attempted to flee the police and that's when the tackle occurred. He further claims that he was trained by the department to use tackling as a form of restraint because it's considered safer than shooting them or something. So, if the officer was within the scope of his duty in restraining the suspect, and using department-authorized techniques to restrain the suspect, it may be difficult for the family to recover damages or prove liability. Basic negligence lawsuits against government actors are simply barred in most places.
Understanding Kansas 
Kansas tends to protect police from use of force incidents much more extensively than other states. The family was never told what happened until much later and was forced to conduct their own investigation into the incident. The names of police officers involved in use of force complaints are not named in these incidents. It was only through pressure created by the family's personal injury lawyer that the family finally learned that their loved one had been violently tackled and died as a result. Perhaps this is why football players wear helmets and even then, concussions remain a major threat.
The suspect 
Walmart security found the man attempting to pry off security tags using an in-store crowbar in his shopping cart. Officers moved to detain the man who fled. He was restrained by one officer but broke away. The second officer then violently tackled him to the ground. He was taken to the hospital but placed into hospice after his condition worsened. The family needs to establish that the officer was acting outside the scope of his duty when performing the tackle. Negligence resulting from the performance of an officer's duty is unlikely to succeed in court.
Talk to a Jacksonville Personal Injury Lawyer Today 
Gillette Law files lawsuits on behalf of those who have been injured by the negligent conduct of another party. Call our Jacksonville personal injury lawyers today to schedule a free consultation and learn more about how we can help.
Source:
kansascity.com/news/local/article263569718.html