The Camp Lejeune Wrongful Death Lawsuits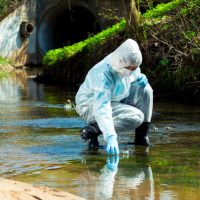 A lawsuit has finally been allowed to proceed against Camp Lejeune, a Marine Corps installation blamed for causing a cancer cluster in North Carolina. From 1953 to 1980, residents blame Camp Lejeune for contaminating the water supply and causing many residents to die prematurely. Over 1 million people were believed to have been exposed to the toxic chemicals. Their families have been prevented from filing a lawsuit against the federal government due to issues related to sovereign immunity.
However, Congress passed special dispensation for affected families to file suits in 2021 under The PACT Act. The law will allow families to sue even if their loved one died decades ago.
What is Camp Lejeune? 
Camp Lejeune is a large marine corps base in North Carolina that has been in continuous use since the 1940s. At any given time, the base houses around 50,000 marines and their families. From 1953 to 1987, the camp's water supply was contaminated with known human toxins PCE and TCE. The levels of these chemicals in the water supply are considered to be 1000 times greater than acceptable levels according to the EPA. As many as 1 million marines and their families were exposed to the contaminated water.
Those who were exposed to the contaminated water showed a much higher rate of certain types of cancers than other members of the general population. These included kidney cancer, bladder cancer, prostate cancer, breast cancer, and leukemia. Higher rates of Parkinson's Disease and birth defects were also reported among former residents of the facility.
Elements of negligence 
The government poured serious money into investigating the cause of the cancer cluster after several marines had their lifespans shortened significantly while fighting off painful cancers. The CDC investigated the matter and concluded that the presence of TCE and PCE was a likely factor in contributing to the uptick in cancers. The investigation also concluded that the improper disposal of these chemicals contaminated the water supply. Hence, it has been established by a government organization that the US Marine Corps is primarily responsible for this toxic mess.
Many family members impacted by the deaths of loved ones filed wrongful death lawsuits against the government, but these lawsuits were quashed due to sovereign immunity rules specifically impacting U.S. soldiers who cannot sue their employer under almost any circumstances. However, more efforts have been made to take responsibility for the matter and a recent law will allow former marines and their families to recover damages related to their untimely deaths.
The PACT Act will be signed into law by the end of the Summer. It will finally allow family members and injured marines to recover damages related to the toxic exposure.
Talk to a Jacksonville Personal Injury Attorney Today 
Gillette Law files personal injury lawsuits against negligent companies, individuals, and government agencies. Call our Jacksonville personal injury lawyers today to schedule a free consultation and learn more about how we can help.
Source:
lawsuit-information-center.com/camp-lejeune-wrongful-death-lawsuit.html