Motorcyclist Dies in Fiery Wreck on Merrill Road in Jacksonville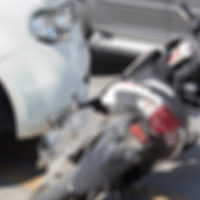 In the blink of an eye, your future can be taken from you due to the reckless, irresponsible decisions of other drivers. A prime example is the tragic accident that took place on Merrill Road near Arlex Drive East in Jacksonville. Eyewitnesses indicate that a red sedan crashed into a motorcyclist who was traveling eastbound on Merrill Road. The collision caused the motorcycle to flip over and explode. One eyewitness described how the motorcyclist's "lower extremities were ripped off," according to CBS 47 News.
The accident remains under investigation, as of the date of this post. However, several witnesses say speeding may have been a contributing factor in causing this awful wreck, according to the aforementioned CBS 47 News article.
Deepest condolences go out to the family and friends of the deceased motorcyclist. Losing someone you care about is always devastating, but the pain is exacerbated when you discover that your loved one's death may have been caused by the careless actions of another driver.
Motorcycle Accident Death Statistics
In 2015, close to five thousand people were killed in motorcycle accidents. That is an 8.3 percent increase from 2014, according to the National Highway Traffic Safety Administration (NHTSA). In addition to five thousand lives lost, close to ninety thousand motorcyclists suffered serious injuries in accidents, according to the Insurance Information Institute.
Motorcyclists Involved in Accidents at Much Higher Risk of Suffering Catastrophic Injuries or Death
Motorcyclists are reportedly 29 times more likely than passenger car occupants to die in collisions and nearly five times more likely to be injured, according to the Insurance Information Institute. This means that motorcycle operators account for approximately fourteen percent of all deaths in automobile collisions.
Types of Damages That Can Be Pursued Through a Wrongful Death Claim
When someone is killed in an accident that appears to have been caused by another party's negligence, Florida law enables specific survivors of the decedent to pursue legal action under the Florida Wrongful Death Statute. This statute details the types of damages that can be pursued through this legal action.
Survivors are generally allowed to pursue damages for lost support and services from the date of the decedent's death and future loss of support (both financial and emotional). This means damages for loss of guidance, companionship, and the potential earnings of the decedent if they had lived and continued to work.
Calculating Lost Earnings
The total amount of damages for the death of someone of working age can be quite substantial, depending on their age at death and their chosen career path. For example, if a 35-year-old man with a job paying him $100,000 per year dies in a motorcycle accident, it is possible to claim that this man would have worked until he was 65 and at the very least maintained the $100,000 salary (if not made more money through promotions). That is 30 years worth of earnings lost because of their untimely death.
To Get a Full Picture of Damages That You Could Recover, Speak to an Experienced
Jacksonville Wrongful Death Attorney
This is a difficult time. You lost someone you loved and you need to go through the grieving process. Let an experienced attorney help by taking the burden off of you and filing the necessary legal paperwork and claims forms to pursue damages on your behalf. Gillette Law, P.A. is here to help. Contact our office in Jacksonville today.
Resources:
actionnewsjax.com/news/local/jacksonville-police-responding-to-fatal-crash-with-injuries-in-arlington/531836243
iii.org/issue-update/motorcycle-crashes