Lawsuits Emerge Over Snapchat's "Speed Filter"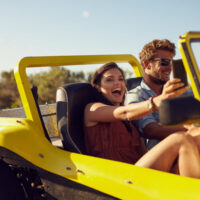 Snapchat has done away with a filter that critics say encourages reckless driving. The filter allowed users to capture how fast they were moving and share it with friends. Users were using this feature in their car while they were driving. This resulted in several accidents that are now the subject of personal injury lawsuits.
Snapchat's reversal of tone on this complaint is telling. The feature has been available since 2013 and Snapchat has repeatedly defended the feature against critics calling for its elimination. In some cases, Snapchat users would drive at excessive speeds to secure bragging rights on the app. This resulted in some injuries and deaths. While some argue that Snapchat is responsible for these deaths, Snapchat has consistently argued that the drivers who chose to drive at excessive speeds were responsible for their own deaths and any injuries they caused to others.
A spokesperson for Snapchat announced that the feature would be removed shortly after defending the feature a month earlier. She said that the feature is one of the least used on Snapchat and because of the controversy surrounding it, Snapchat will do away with the speed filter.
Speed filter linked to several car crashes 
Snapchat is being sued by the families of mostly teenagers who were either severely injured while using the app or injured others while using the app. However, it's no more legal to upload a Snapchat pic of yourself than it is to text while you're driving. The inventors of text messaging, however, have not been sued by the families of teenagers who died while trying to text. The lawsuit against Snapchat will face similar hurdles as identical arguments are made against the plaintiffs.
The plaintiffs, in response, will argue that Snapchat could have reasonably foreseen that their filter would be misused by its young users. Snapchat continued to allow the filter to be accessible from its app even after multiple deaths were linked to the device.
While the merit of these personal injury lawsuits is questionable, given the questionable and illegal decisions made by the victims, perhaps getting the feature removed from the app is the real win for victims. Attorneys have argued that Snapchat users believed that they would be given digital awards or trophies for breaking the law, something Snapchat vehemently denies and can't be established from using the app itself.
While pressuring the company to remove the app is a real win for safety experts, the families don't have a very strong argument against Snapchat since those who died were breaking at least two laws by speeding and by texting while driving. Whether or not these lawsuits recover any damages at all may depend entirely on which state they are filed in. States that prevent lawsuits from being filed by those who contributed negligence are the least likely to permit these lawsuits to move forward.
Talk to a Jacksonville Personal Injury Attorney Today 
If you've been injured in an auto accident caused by a distracted driver, you may be able to sue to recover damages related to your injuries. Call the Jacksonville personal injury lawyers at Gillette Law today to schedule a free consultation and learn more about how we can help.
Source:
news.wjct.org/post/snapchat-ends-speed-filter-critics-say-encouraged-reckless-driving