Government-Subsidized Apartment Explodes, Injuring 7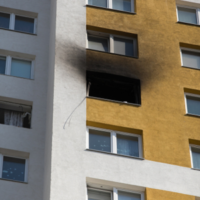 According to a state investigation, a family reported smelling gas in their home four times before it eventually exploded injuring seven people, five from the same family, most critically. Of the seven, injuries suffered by Danielle Ethridge were the worst. She sustained burn injuries to 80% of her body. Her children suffered injuries to the majority of their bodies. Witnesses to the events said that Ethridge would not leave the apartment until she had located two of her children.
While state investigators reported that the explosion was accidental, they also noted that the family had made at least four attempts to report the smell of gas that went ignored prior to the explosion. Maintenance workers came out twice to investigate the issue but left both times without doing anything.
After the Explosion 
Twenty-eight families were evacuated from the apartment complex after several safety violations were discovered. The Ethridge family has filed a lawsuit against Millenia Jacksonville FL TC LP and Millennia Housing Management Ltd, respectively, the companies that own and manage the property that exploded.
It was later discovered that the family had no warning concerning the gas leak and that there was no fire extinguisher in an area that they could access. Further, the defendants failed to replace defective equipment which caused the dangerous condition on the premises even after they had warning that tenants were smelling gas. In fact, their negligent maintenance of the property made such an explosion inevitable.
Damages in This Lawsuit
If you've never heard of a "nuclear verdict" it's a verdict that's considered so absurdly large that juries are believed to have "nuked" the defendant. This exactly the type of case that warrants a defendant being "nuked" by the jury.
Here you have a disadvantaged family reporting a gas leak in their home. After two inspections by apartment maintenance, the leak remains and the apartment explodes. It is later revealed that basic safety requirements like carbon monoxide detectors and fire safety equipment were not present on site. Because the defendant so failed in their duty of care, they made such an explosion inevitable. The defendant is guilty not only of negligence but gross negligence.
As for damages, the plaintiff is entitled to recover damages related to lost wages and reduced quality of life. She spent a year undergoing surgeries and had to be placed in a medically-induced coma. She will be scarred for life. The same is true for several of her children. It wouldn't be unreasonable for a total settlement package to go into 8 figures. If punitive damages are in play, 9 figures wouldn't be out of the question because five children are literally scarred for life.
Talk to a Jacksonville Burn Injury Attorney Today
If you've sustained burn injuries due to the negligence or misconduct of another party, call the Jacksonville personal injury attorneys at Gillette Law today to schedule a free consultation and discuss your situation in more detail.
Resource:
news4jax.com/news/local/2021/01/19/jacksonville-family-reported-gas-smell-four-times-before-explosion-state-investigators-find/
https://www.gillettelaw.com/former-rugby-players-consider-cte-lawsuits/