Florida Man Has Truck Verdict Tossed in Personal Injury Lawsuit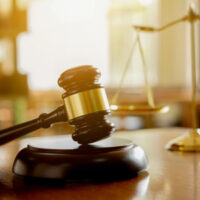 A Florida man has appealed a decision by an Indiana judge against a North Dakota trucking company that reduced a $1 million jury award to $250,000 before vacating the decision completely leaving him with nothing.
What Happened? 
The accident occurred in 2012. The plaintiff was driving a Dodge Caravan in the right-hand lane of an interstate. The truck involved in the accident was in the center lane. According to the lawsuit, the truck negligently changed lanes striking the Caravan and causing the accident. The lawsuit was filed in 2014. The plaintiff won the decision and was awarded $1 million by the jury.
Five years later, the trucking company filed another motion to begin a new trial. They claimed the award was "grossly excessive" and that the medical evidence submitted did not justify such a high award. The trucking company believed that the jury was biased against the trucking industry.
The company's request for a new trial was granted on the basis of plaintiff's counsel asking the jury to send a message to the trucking company to deter future accidents of this nature.
Medical Treatment 
Judges will reduce jury awards but they seldom vacate entire judgments unless there was a matter of law that was not followed to the letter. The trucking company argued that the plaintiff did not request medical treatment at the scene of the accident. The plaintiff subsequently attended a go-cart event and slept in his fan for three nights straight. After the go-carts, he went back home. The plaintiffs entered no evidence related to damages. This would include medical expenses and lost wages. A neurologist testified that the plaintiff suffered a "very mild" concussion. The plaintiff said that he continued to experience post-concussion symptoms for months after the accident.
Sending a Message
Jurors are allowed to send messages to trucking companies. The problem is that damages were never established in this case and there was never any allegation that the defendant was grossly negligent. When a defendant is "grossly" negligent, the plaintiff is allowed to sue for punitive damages, and that's when and how messages get sent. The judge concluded that the plaintiff's attorney erred when he asked the jury to send a message, and awarded the defense a new trial that would cover compensatory damages only. In other words, the plaintiffs will not need to establish that the defendant was negligent because the jury has already ruled on that matter. The new trial will determine only what compensatory damages the defendant should be awarded.
Talk to a Jacksonville Personal Injury Attorney Today
If you've been injured in a vehicle accident involving a commercial truck, call the Jacksonville personal injury attorneys at Gillette Law today to schedule a free consultation and discuss the matter in greater detail.
Resource:
landline.media/florida-man-not-satisfied-with-250k-truck-crash-verdict/
https://www.gillettelaw.com/parkland-plaintiffs-asked-to-provide-psychiatric-records-to-prove-distress/