Appellate Court Rules That State Farm Must Pay Uninsured Motorist Claim Related To Scooter Accident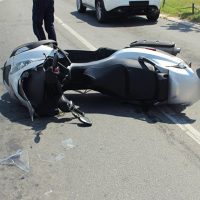 Is a scooter a motor vehicle? According to the 11th Circuit Court of Appeals, it is. The court ruled that State Farm is required to pay an uninsured motorist claim related to an electric scooter accident even though the definition of a motor vehicle appears to exclude eclectic scooters by definition.
The appellate court reversed a U.S. district court decision to grant summary judgment in favor of the insurance company. The court rejected State Farm's argument that it only offers uninsured motorist coverage to vehicles that match the description set forth in the uninsured motorist statute or Financial Responsibility Law.
The accident 
The driver of a Nissan Altima collided with an electric scooter when the scooter attempted to make a left-hand turn in front of the vehicle. The scooter driver was killed in the accident. The driver of the Nissan suffered injuries to her back, neck, and left knee. The driver of the Nissan filed a claim with State Farm seeking the uninsured motorist limit on the policy of $100,000. State Farm denied the claim and filed a lawsuit seeking a declaratory judgment that there was no coverage for the accident based on the argument that an electric scooter did not fit the definition of a motor vehicle under the uninsured motorist statute. The district court judge granted State Farm's motion to dismiss the lawsuit because the scooter was not designed to be driven on public roads.
The appellate court ruled that the statutory definition of a motor vehicle was irrelevant to the case. The statute only sets forth minimum compliance rules when it comes to drafting insurance policies. There is nothing under the law that prevents an insurer from offering more coverage. In this case, State Farm's policy offered coverage for accidents caused by "land motor vehicles," but did not define the term.
In this case, the Razor Pocket Mod scooter involved in the accident had a 250-watt electric motor and two 12-volt batteries. It does not, however, have a tail light, brake lights, or blinkers, and did not have a license plate at the time of the accident.
Since the definition of a "land motor vehicle" is open-ended enough to include electric scooters, the appellate court ruled that State Farm must pay for the injuries that occurred during the accident. The vehicle is powered by an engine that moves over land. State Farm's failure to define a "motor vehicle" under the policy as conforming with the definition set forth in the uninsured motorist statute meant that they were required to pay the claim related to the accident.
Talk to a Jacksonville Car Accident Injury Attorney Today 
Gillette Law represents the interests of those who are injured in motor vehicle accidents. Call our Jacksonville personal injury lawyers today to schedule a free consultation and we can begin recovering damages on your behalf right away.
Source:
insurancejournal.com/news/southeast/2023/04/04/715083.htm