Son Files Lawsuit After Mom Beaten To Death At Nursing Home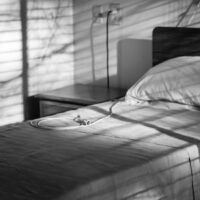 A photo circulating on social media showed the bruised and bloodied face of an 86-year-old woman who died shortly after at her nursing home. Her son has filed a wrongful death lawsuit against the nursing home and accuses them of outright malice and negligence. The lawsuit accuses staff of the nursing home of physical and verbal abuse. However, the claim stems from a fall incident that the staff failed to appropriately respond to.
The lawsuit accuses the facility of standing idly by while their residents were physically assaulted by staffers. They are further accused of altering her medical records, failing to inform doctors concerning her medical condition, and committing other acts that negatively affected her health and wellbeing. The nursing home is further accused of exercising gross negligence in training staffers to move residents during chair transfers.
Why are assault charges against nursing homes so frequent? 
That's a good question. Chances are good that overworked staffers who've expended the majority of their patients would be a little rougher with residents where they were trying to move them from their bed into a chair. In cases where a resident wasn't cooperating, they might get angry. If the resident cries out in pain, then the nursing staff says, "Well, you should have done what we instructed." It's a small thing, but it is precisely the type of behavior that balloons out into assault, rape, and incompetence charges. The staffers think that they can punish the residents for not complying with their commands. Then, something like the aforementioned happens, and everyone scrambles to cover their butts.
Meanwhile, the nursing staff at these homes aren't necessarily treated well by either their employers or the residents. The residents resent them for being dependent on them, and for the amount of control they have over their lives, while the staffers resent being spit on, punched, or otherwise attacked by memory care patients who don't know where they are or what is happening. While that may explain why nursing home staffers abuse patients, it certainly doesn't justify it. The nursing home has a duty of care to ensure that their residents are safe and their medical needs are met. So there is no excuse for roughly transferring a patient from her bed onto a chair, or physically or verbally abusing patients within your care.
Whatever the issue, we also know that sexual predators are attracted to vulnerable victim pools, and who is more vulnerable than the very elderly? This may explain the higher frequency of sexual abuse within nursing homes. They can't speak out, and they can't fight back, leaving their devastated children to fight on their behalf.
Talk to a Jacksonville Wrongful Death Attorney Today 
If a loved one is the victim of nursing home abuse, call the Jacksonville personal injury attorneys at Gillette Law today. We will fight tirelessly to ensure that nursing homes are held accountable for their negligence and malice. Call today!
Source:
tapinto.net/towns/westfield/sections/health-and-wellness/articles/wrongful-death-lawsuit-against-westfield-nursing-home-claims-assault-battery