Family Targets Scooter Manufacturer After Death of Woman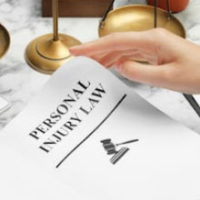 The family of a woman who was broadsided by a car while riding an e-scooter is suing the manufacturer of the scooter for her extreme injuries. The 27-year-old woman suffered severe injuries and is currently fighting for her life in a coma. Doctors say that she is in a persistent vegetative state. The woman's mother has filed a lawsuit against Lime Scooters for the woman's injuries.
This case is not unique. E-scooters have found their way into major U.S. cities almost overnight. Through the use of a phone app, riders can access the scooters and rent them. They can then leave them off when they're done and another potential passenger can pick them up.
The scooters have created a problematic stir in cities like San Francisco where legislators have limited the number of scooters after resident complaints. Not only were those riding the scooters injured, but other pedestrians were as well. Additionally, the scooters were left in awkward places creating obstructions for passersby. Some angry residents advocated for a wholesale ban on the devices with city limits.
Are E-Scooters Dangerous?
It largely depends on how they're used and who is using them. The facts are that, in cities like L.A., San Francisco, and San Diego, where they made their debut, e-scooters have created a lot of problems. In one year, e-scooters were responsible for nearly 250 trips to the emergency room in L.A. alone. They've been banned in Seattle and a proposed legislation in Baltimore would jail any scooter rider who exceeded 15 mph.
The problem with the scooters is that they can go up to 20 mph and are regularly used on sidewalks where the average person walks about 5 mph. While they may not be faster than the fastest man in the world (27.8 mph), the fastest man in the world could expect to be sued if he ran over a pedestrian who was walking on the sidewalks.
In Fort Lauderdale, where the woman had her accident, dockless scooters cannot operate in the street and must be operated on the sidewalk. While this may make it safer for the scooter riders, it does not make it safer for other pedestrians.
Lime App Instructs Scooter Riders to Ride in Streets
Because of the danger to pedestrians on sidewalks, the Lime app instructed users to use the e-scooters in streets. Attorneys for the woman mentioned above blame this directive for her catastrophic injuries. According to the plaintiff's attorney, the Lime app still tells scooter riders that they should operate their scooter in the streets as opposed to the sidewalks. They are targeting the manufacturer on a theory that they failed to warn users about the safety problems of operating the vehicle in the streets.
In Fort Lauderdale, there have been a total of 40 accidents involving scooters and 31 of those required trips to the hospital. Four of those were considered level-one traumas.
Talk to a Jacksonville Personal Injury Attorney
If you have been injured by a negligent party, contact Gillette Law in Jacksonville to set up a free consultation today.
Resource:
abcnews.go.com/Unit/family-28-year-florida-woman-sues-lime-scooter/story?id=61017281
https://www.gillettelaw.com/woman-sues-hy-vee-after-getting-knocked-down-by-automatic-door/