Employers Argue Workers' Comp Exclusive Remedy For COVID Victims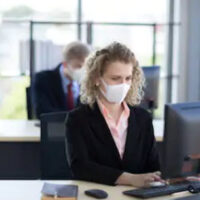 Right now, several employers are being sued for negligently exposing their workers to the virus. Most of these lawsuits were filed in the early days of the pandemic or shortly after quarantine protocols went into effect. There are cases in which employees were not sent home from work after showing symptoms of the virus and other cases in which employers appear to have taken none of the CDC recommendations seriously. Entire industries were crippled by a lack of labor stemming from the infection.
Now, there is a question brewing in state courts as to whether or not surviving family members of those who died should be allowed to file lawsuits against their employers or if workers' compensation should be the sole remedy. The employers are hoping to route the suits through the workers' compensation system while the families want to be able to file lawsuits.
This has created a situation where individual state courts are required to rule on whether or not workers' compensation applies in each of the individual cases filed. The results may not be consistent even within the state. However, workplace hazards are usually the domain of workers' compensation. The fact that the unsafe condition is a disease wouldn't really matter. Nonetheless, not all states operate according to the same rules.
Why do plaintiffs prefer lawsuits? 
You can recover much more from a lawsuit against another party than you can from workers' compensation. Families that lose loved ones on the job can file a claim for death benefits, but death benefits are only a fraction of what the family is likely to be entitled to recover in a personal injury lawsuit. That means that both parties have a strong and vested interest in seeing the matter decided their way. That's what makes this so interesting.
The matter will not, however, be interesting in Florida. Florida law requires that all employers carry workers' compensation insurance. The only situation in which an employee would be able to sue is if there is a dispute with the company's insurance carrier over coverage. If the insurance carrier decides to not honor the claim, then the workers' family would be allowed to pursue a wrongful death lawsuit against the company. A worker would also be able to file a lawsuit if they can prove that someone else intentionally caused their infection (which is unlikely to ever happen).
There is also some question as to what role gross negligence allegations will play in COVID-19 lawsuits. Workers' compensation only covers accidental injuries and deaths that occur as a result of a worker's duties. They do not cover situations in which an employer ignores all recommendations placed on them by authorities and allows several of their employees to die or fall ill of the virus. But every state has its own rules meaning that some of these lawsuits may be allowed to move forward.
Talk to a Jacksonville, FL Personal Injury Attorney 
COVID-19 lawsuits will be exceedingly difficult to win. However, Florida allows COVID lawsuits in the event that a property owner fails to "substantially" comply with health recommendations. Call the Jacksonville personal injury attorneys at Gillette Law today for a free case evaluation.
Resource:
businessinsurance.com/article/20210623/NEWS06/912342693/Exclusive-remedy-defense-trending-in-COVID-19-litigation