Boating Safety: Ways To Prevent Swimming And Drowning Injuries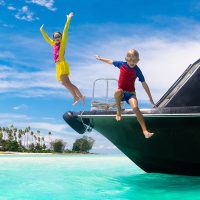 Boating is a popular activity that many people from our area love to engage in. However, it is important to remember that, when on the water, swimming and drowning injuries are a serious risk. It is important to take precautions to protect yourself, your passengers, and others on the water. Our Jacksonville swimming/drowning injury attorney offers some simple safety tips.
Take Precautions Before Heading Out On The Water
The city of Jacksonville offers a list of hot spots for boating in our area. Many locals and tourists take advantage of these spots for boating and swimming, as well as in many popular places in Brunswick, Georgia.  Before heading out, take some precautions:
Assess your boating skill: Operating a boat is a complex task. The American Boating Association offers educational classes that can help increase your boating skills.
Know safe places to travel: Consult with boating maps, search for areas conducive to boating and swimming, and avoid places with strong currents or other hazards that increase boat accident risks.
Make sure your boat is equipped with lifejackets. Unexpected events can happen, and wearing a lifejacket reduces the risk of swimming and drowning injuries.
Check the weather forecast: Be aware of current conditions and predictions of any adverse weather on the horizon. Do not hesitate to delay your trip if adverse weather is forecasted.
Let someone know your itinerary: Never venture out boating or swimming without letting someone know first. Tell them where you are headed, what time you are leaving, and when you expect to be back.
Be prepared: Have life preservers, flares, and a first aid kit. Get trained in CPR to reduce swimming and drowning injury risks.
Preventing Swimming/Drowning Injuries On The Water
National Safe Boating Week is held each year towards the end of May. It focuses on how to prevent boating accidents and reduce swimming or drowning injuries. To protect yourself, your passengers, and others you encounter on your trip, follow these safety tips:
Never drink or take any type of drugs while operating a boat;
Make sure passengers do not overindulge, especially if they plan on swimming;
Avoid using your propeller when people are in the water;
Do not allow passengers to dive off the back of your boat or near where the propeller is located;
Never allow children to swim alone or in unfamiliar waters, and insist they wear a lifejacket at all times;
Require other passengers to put on their lifejackets if you encounter strong currents, high winds, or other dangerous conditions.
Our Jacksonville Swimming/Drowning Injury Attorneys Are Here To Help
Serious and potentially life-threatening swimming and drowning injuries often happen due to boating accidents in Jacksonville and Brunswick, GA. If you or someone you love is hurt, Gillette Law, P.A. is here to help. We provide the trusted legal guidance you need in filing a boating accident claim. Call or contact our Jacksonville swimming/drowning accident attorneys online to request a consultation today.
Sources:
visitjacksonville.com/blog/boating-hot-spots-in-jax/
americanboating.org/boateducation.asp
weather.gov/safety/safeboating-week#:~:text=The%20National%20Weather%20Service%20has,help%20promote%20safe%20boating%20practices.\