What Does Personal Injury Mean?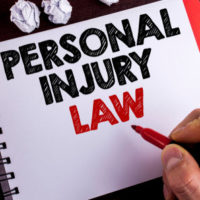 If you are asking "what is a personal injury?", chances are you or a loved one has been injured in some way. Ultimately, the answer has many parts.
Personal injury is not one specific injury. Personal injury refers to a group of legal claims available to a plaintiff for injury or damages they have suffered. Personal injury claims are also referred to as tort claims. There are two main issues in the claim – liability and damages. A court will look to see if the defendant is liable for the injury, damages, or loss that you suffered. If the defendant was liable, the court will determine the amount of damages that are owed to the injured party, or plaintiff.
Common Types of Personal Injury Claims
While there are a wide range of types of claims, there are more common types of personal injury claims.
Car Accidents. This includes any injury that is sustained as a result of a car accident – Anything from a broken bone to paralysis.
Truck Accidents. It is obvious that large commercial trucks can pose a significant risk on the roadways. Outside of the large size, there are often issues involving driver fatigue and error.
Wrongful Death. Wrongful death is a civil suit in which the negligence of someone caused the death of another. The suit is brought by the deceased estate or family members.
Medical Malpractice. Medical malpractice is when a doctor, healthcare professional, or hospital makes a mistake or error that causes injury to a patient.
Product Liability. Product liability arises if you are injured by a dangerous or defective product. These injuries may lead to recalls of the product and damages for those that are injured.
What Should I Do If I Have Been Injured?
Seek Medical Attention. Your first priority in any injury is to make sure that you receive the proper medical attention. Call an ambulance, go to the emergency room, visit a doctor, or receive whatever medical help you need.
File a Police Report. If you were involved in an auto, truck, pedestrian, or other type of accident, make sure to file a police report. This will be important in future case litigation.
Keep records of everything. Make sure to keep a record of medical bills, doctors visits, treatments and recommendations, etc. Keeping track of these types of record at the outset will help your case.
Stay off social media. It might be appealing to write a Facebook post or tweet about an accident. It is important to remember that these statements could be used against you in future litigation.
Contact an attorney. It is essential to contact an experienced attorney to handle your case. An attorney will keep track of deadlines and make sure your case is handled properly.
Personal injury suits are not "one size fits all." Each case is unique and deserves the full attention of a skilled attorney. At Gillette Law in Jacksonville, we provide high-quality legal services that are personalized for your case. Contact us today to find out how we can best help you.
Resource:
americanbar.org/groups/public_education/resources/law_issues_for_consumers/injury_typical.html