Motorcycle Safety Month: How To Reduce Motorcycle Accident Risks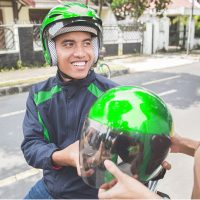 Riding a motorcycle is a popular hobby and motorcyclists frequently travel between Jacksonville and Brunswick, Georgia. Unfortunately, reckless behavior on the part of motorists can put them in jeopardy. Motorcycle accidents are common and often result in serious, potentially life-threatening personal injuries. Throughout this year, Motorcycle Safety Month focuses on raising awareness of the potential hazards. Find out what you can do to reduce the risks.
Reckless Driving Increases The Risks of Motorcycle Accidents In Florida and Georgia
Motorcycles are a primary means of travel for many residents of Jacksonville and Brunswick County, GA. There are also numerous rallies, group rides, and other events to take advantage of, where they can meet others who share their affinity for riding. However, it is important to be aware of the potential hazards, particularly during the warm weather months, when there is an increase in traffic on the road.
According to the Florida Department of Highway Safety and Motor Vehicles (FLHSMV), an average of more than 400 motorcycle accidents in Duval County happen annually. The Georgia Department of Driver Services reports that over 4,000 motorcyclists are involved in crashes and collisions each year. Reckless behavior on the part of other road users is often to blame.
Many drivers are unaware of how difficult it can be to handle a motorcycle or the limitations riders face in terms of making tight turns or sudden stops. Actions drivers routinely engage in that put motorcyclists at risk include:
Following too closely, otherwise known as tailgating;
Cutting motorcyclists off in traffic and failing to yield the right of way;
Improper passing;
Speeding and going too fast for conditions, increasing the general risk of motorcycle accidents and the chances for fatal injuries.
Protecting Yourself On The Road
This month is designated as National Motorcycle Safety Month and works to raise awareness both among drivers and motorcyclists of the potential dangers and how to reduce motorcycle accident risks. While there is nothing you can do to control the behavior of others on the road, follow these tips to protect yourself and reduce your odds of suffering serious personal injuries:
Wear a helmet when riding;
Follow all traffic signs and signals;
Pay attention and be alert for reckless behavior on the part of drivers;
Avoid consuming any amount of alcohol, recreational drugs, or even certain types of medications when riding.
Injured In A Crash? Contact Our Jacksonville Motorcycle Accident Attorney
Despite taking precautions, motorcycle accidents can still happen. These can cause serious and potentially life-threatening personal injuries that impact you and your loved ones, both now and for years to come.
At Gillette Law, P.A., our Jacksonville motorcycle accident attorneys protect the rights of bikers injured in crashes here or in Brunswick, Georgia. While you focus on recovering from your injuries, we focus on holding at-fault drivers accountable. To get the caring support and comprehensive legal representation you need in filing a claim, reach out and call or contact our office online and request a consultation today.
Sources:
flhsmv.gov/pdf/crashreports/crash_facts_2020.pdf
dds.georgia.gov/press-releases/2021-09-09/motorcycle-fact-sheet
trafficsafetymarketing.gov/get-materials/motorcycle-safety